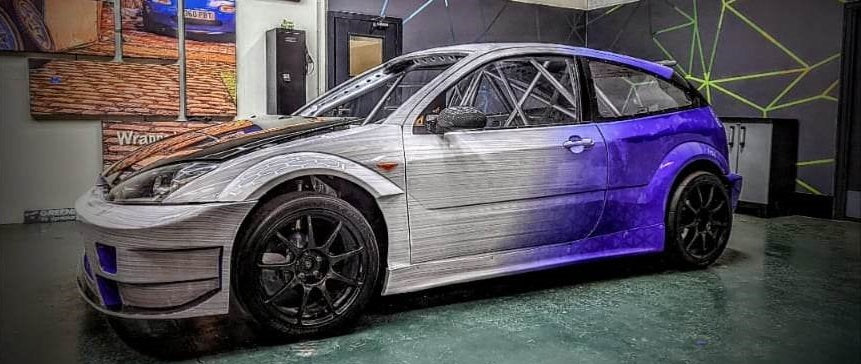 AJ Racing Mk1 Focus Race Car - 2002 ST 170
AJ Racing's Jonathan Morris has for a long time been developing his Focus mark one race car. Below is a pic as it was in 2015.
Jonathan started in 2011 with the aim of time attack racing and in the 2023 new season the team are looking both to develop the car and to race in the Classic Sports Car Club challenging Open Series Championship with the possibility to even run two rounds outside of the UK at the Steeda home stomping grounds of the famous Sebring and Daytona race tracks. 
Join Jonathan on a lap of one of my favourite UK tracks, Snetteron!

Jonathan has reached out to many partners including Steeda to help develop his mark one focus into a formidable track weapon. Burton Power have put their extensive knowledge to good effect constantly developing the engine whilst Steeda helped mount the engine on their billet motor mounts which are a must to provide a strong and stable platform which can endure the rigours of hard racing. A proflex race fuel tank provides good capacity for the longer races to come and a full roll cage welded in protects the drivers. Power goes down through a  Helix multiplate race clutch. Enhanced suspension and brakes are a given and the driver benefits from an improved driving position and a custom pedal box. The engine development has been constant and the power increases keep on delivering from the original 220 or so back in 2012 when the first development on the car started up to 320 horsepower the car was running in the 2015 season.
Below: AJ Racing 2015 Car showing engine and Steeda Billet Mounts.
Bottom Pic shows Steeda vs OEM mount
This season with the longer races the team have signed three drivers to share the load, Terry Dolphin, Matthew Potter and Lawence Green, with Jonathan himself stepping away from the driving and moving more to a team management role.

The partnership with Steeda stretches back to 2014 and we have slowly added some Steeda parts to the comprehensive build that Jonathan has overseen the latest addition was a Steeda rear roll bar and now to complement the use of the MTX 75 five speed gearbox that the team are using we will deploy a Steeda triax short shifter.

Below: Steeda MTX-75 5 Speed Shifter 
New look 2023 paint job with the rear equipped with a Steeda 555-1075 Anti Roll Bar (Normally for a mk3 non ST focus)

Other changes for 2023 include a repositioning of the driver seat, improved brakes with adjustable bias and bigger tyres to deal with the enhanced power and speeds, and an overall focus on strengthening and weight loss (a complex challenge every race team faces!).

We wish the team luck for the 2023 season and hope they can make it over to the USA for the 2 rounds there at the end of the season! Stay Tuned!
You can keep up with the AJ Racing team via their website: https://ajracingteam.co.uk/
Or Socials here:
https://www.facebook.com/AJRacing219
https://www.instagram.com/ajracing219/

Shop for mk1 Focus upgrade parts here: STEEDA UK MK1 FOCUS SHOP
Think YOUR Steeda equipped Fast Ford deserves some recognition and a feature car spot of its own? Well CONTACT US and if we agree we can make it happen!
MORE PICS: